Bullying the bear market
Wednesday 1st April 2020
With all the talk of global recession and dead cats bouncing in the share markets, some economic forecasters are a bit more optimistic.
Janus Henderson's Frank Uhlenbruch is an investment strategist who specialises in Australian fixed income. He expects the road ahead for the domestic economy to be 'U' shaped, and that we're currently in the stop phase of the graphic below.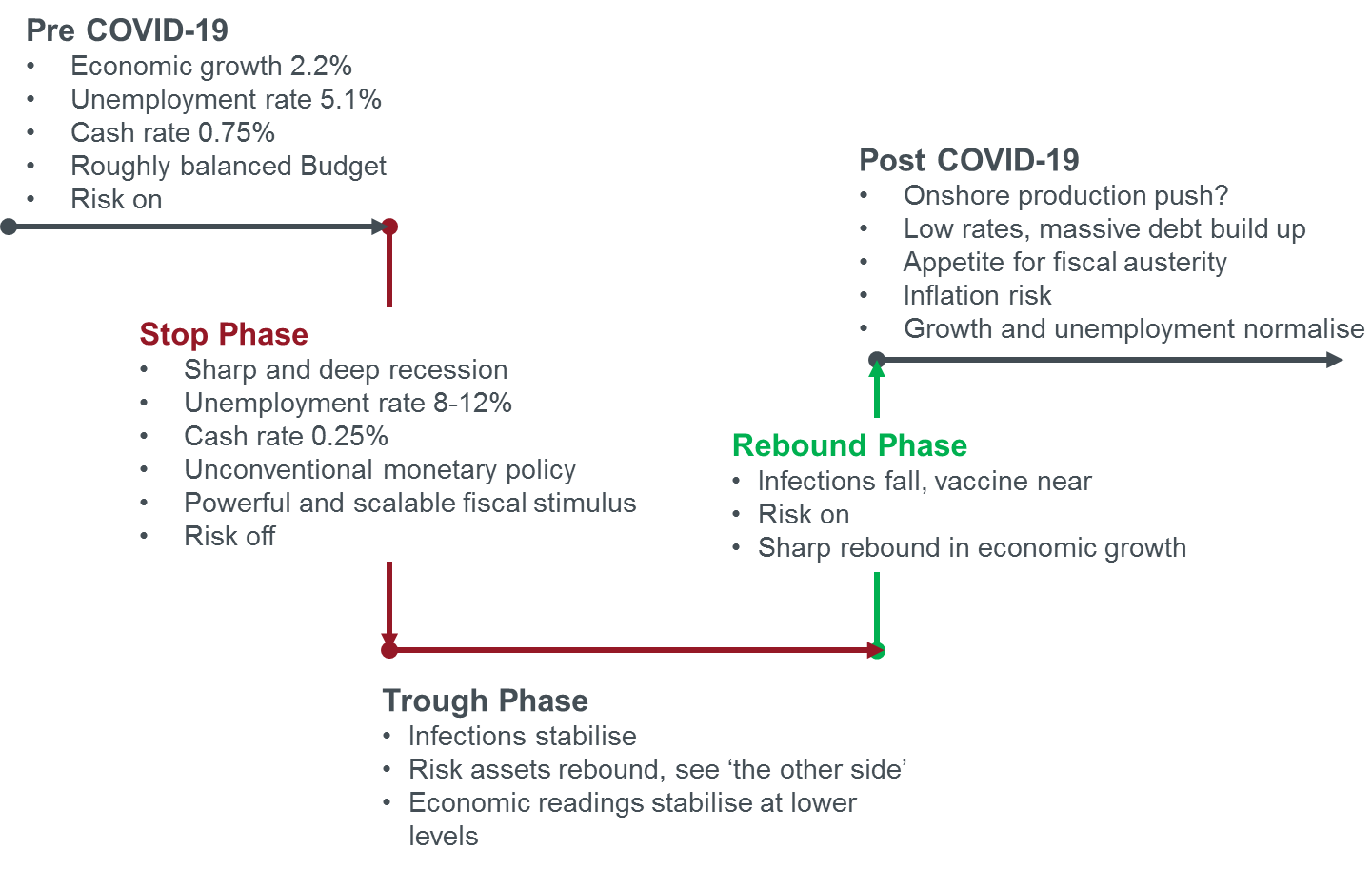 There's still some room to move down into the trough phase, however, the amount of time spent there will depend greatly on how well countries manage the spread of the virus, as well as, "test citizens' and governments' resolve and societal cohesion," says Uhlenbruch.
The challenges will come in the rebuilding, on the other side of the U. "Policy accommodation will have to be unwound at some stage, with little appetite for post-GFC austerity measures. Countries will most likely question supply chain vulnerabilities and there could be a further retreat of globalism."
Will this bring manufacturing back to countries that have moving work overseas? "'On-shoring' the production of goods and services, while providing a national security benefit, will result in a decrease in welfare. For debt holders, the blurring of monetary and fiscal policy increases longer term inflation risk."
How long will the bear market last?
The thing about bear markets, says Uhlenbruch, is that they all share one similarity: they end.
There are differences, of course: the duration, severity, speed.
And while we've seen some historic drops in the market, both in terms of total value and as a percentage, Uhlenbruch suggests this bear market may not last as long as some others.
First, he says that there has been a panic selling of assets that have turned mark-to-market, or paper losses, into real losses. "The COVID-19 bear market was triggered by a supply side shock that quickly escalated into a profound demand side shock as health policies saw activity 'stop' during the lockdown phase of managing the rate of infection."
The market downturn has been largely speculative about the coming market forces than in reaction to actual events. As such, it has been remarkably reflective of strong policy decisions. "The policy response to this biological shock has been swift, dynamic and comprehensive. Central banks are providing unbound liquidity and fiscal policy is helping economies ride through to when infection rates begin to fall or a vaccine is close."
Ultimately, Uhlenbruch argues that, "The vigorous policy response and finite nature of the event suggests that this bear market will have more of a 'U' shape and be shorter in duration than other bear markets."